Campus Living
Campus Living, as a university department of the Division of Student Affairs, is made up of the four key areas: Residence Life, Housing Operations, Dining Services, and ECU Student Transit. This website provides information on Residence Life and Housing Operations.
---
Housing Announcements

Mid-Semester Housing: If you are not currently living on-campus but would like to inquire about doing so, please call our office.
The 2024/2025 Housing Contract will be available later this fall.
The 2023-2024 Academic Year Housing Price Chart is here.
For maintenance requests, go to https://go.ecu.edu/fixrequest 
Additional Campus Living sites
Important Documents
Download charts, contracts and the Resident Handbook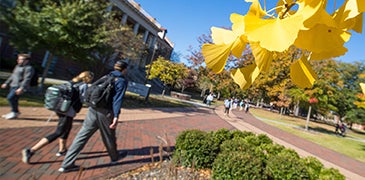 Freshman/First-Year Live On-Campus Requirement
East Carolina University freshmen (defined as students who have completed fewer than 24 hours of college credit – excluding AP, dual enrollment, or early college hours) and first-year students are required to live in college housing for at least two semesters. Exempted from this policy are students who have reached their 21st birthday prior to the first day of classes; veterans of the U.S. Armed Forces; married students; students with dependent children (living with them); or students who commute to school daily from the permanent, legal residence of their parents (within a 35-mile radius of campus).
How does a student get an exemption approved? Students who meet one of the exemption criteria will be required to complete and return the appropriate form:
Can a student who meets one of the exemption criteria still live on campus? Yes!
Why does ECU have this policy? ECU created this policy based on a desire to further improve student retention. Data shows that students living on campus generally return to school the next year at a higher rate with a higher GPA than those living off campus their first year.
By submitting this waiver to receive an exemption from the freshman/first-year live on-campus requirement, the student will be required to enroll in a section of COAD 1000, ECU's freshman seminar class in the first semester that they are living at home under the freshman residency exception. They will also be required to purchase a Gold 500 meal plan (or larger) each semester  of enrollment under the freshman residency exemption so they might better connect to the campus and others in the freshman class.
Students who apply for housing/sign a housing contract will be held to the terms of the Campus Living contract regardless if they qualify for an exemption from the freshman/first-year live on-campus requirement. Applying for an exemption after you apply for housing WILL NOT release you from the Campus Living Contract.
Students requesting exceptions to the Live On Requirement for commuting daily from the permanent home of their parents, should mail this paperwork- with notarized section and map. Send the completed application and any supporting documentation to the Office of Campus Living to: Campus Living, Live-On Requirement Committee; Jones Hall Office Suite 100, Mailstop 415; Greenville, NC 27858-4353
All other requests, may be mailed or scanned/emailed to housing@ecu.edu with the required documents/forms.